UPDATES ON CLPEX.com
No major website updates this week
ANNOUNCEMENTS
No announcements either
LAST WEEK
we looked at some new SWGFAST documents recently posted to the SWGFAST website.
THIS WEEK
we look at a new chemical development technique out of China, recently featured in Forensic magazine.
http://www.rsc.org/chemistryworld/News/2012/April/fingerprint-detection.asp
__________________________________________


Shining a light on fingerprint detection

05 April 2012


Scientists in China have discovered a method for visualising latent fingerprints found at the scene of a crime, which they say is very simple, rapid, does not require professional forensic treatment and does not destroy the print.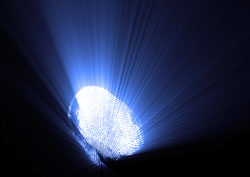 The fingerprints were enhanced by aggregation induced emission of tetraphenylethene
© iStockphoto
Bin Su and co-workers from Zhejiang University, Hangzhou, noticed that the conjugated compound tetraphenylethene (TPE) adhered to the greasy ridges of fingerprints via a hydrophobic interaction. TPE is non-fluorescent in acetonitrile solution, but when light with a 365nm wavelength is shone onto the solution, the compound can lose the extra energy by rotating. However, when TPE sticks to the fingerprint, its molecules clump together (or aggregate). The aggregated molecules can no longer rotate, so instead, they release the energy as light. This phenomenon is known as aggregation induced emission (AIE) and has been used in sensors, but never as a means of detecting fingerprints.
The group stumbled on the result by accident. 'We were trying to enhance the visualisation of latent fingerprints by electrochemiluminescence,' says Su, 'and we found that the chemical procedure of aggregation induced emission was one of the methods for adsorbing TPE onto fingerprint ridges.'
Steven Bell, an expert in forensic research at Queen's University in Belfast, UK, is circumspect in his assessment of the protocol. 'The advantages over existing methods still need to be demonstrated,' he says. 'A side-by-side comparison against the standard superglue fuming method would be useful to establish the sensitivity.' This is a method in which superglue reacts with amino acids, fatty acids and proteins in latent fingerprints and moisture in the air to produce a white material along the ridges of the fingerprint, resulting in an image of the fingerprint.
He adds that getting the fingerprints into the dye solution at the scene of a crime may not be easy. 'There may be practical difficulties in applying this method where the object bearing the marks is large - a car for example.'
Although Su thinks that an AIE protocol is promising for future forensic applications, he does recognise some of its limitations. However, he thinks the protocol could at least have educational value. If appropriate compounds can be found with 'solubility in alcohol and emission in the visible range, the protocol might be suitable as a chemistry or forensic experiment for school students,' he says.
Heather Montgomery
__________________________________________

Feel free to pass The Detail along to other examiners for Fair Use. This is a not-for-profit newsletter FOR friction ridge examiners, BY friction ridge examiners. The website is open for all to visit!

If you have not yet signed up to receive the Weekly Detail in YOUR e-mail inbox, go ahead and join the list now so you don't miss out! (To join this free e-mail newsletter, enter your name and e-mail address on the following page: http://www.clpex.com/Subscribe.htm You will be sent a Confirmation e-mail... just click on the link in that e-mail, or paste it into an Internet Explorer address bar, and you are signed up!) If you have problems receiving the Detail from a work e-mail address, there have been past issues with department e-mail filters considering the Detail as potential unsolicited e-mail. Try subscribing from a home e-mail address or contact your IT department to "whitelist" the Weekly Detail. Members may unsubscribe at any time. If you have difficulties with the sign-up process or have been inadvertently removed from the list, e-mail me personally at kaseywertheim@aol.com and I will try to work things out.

Until next Monday morning, don't work too hard or too little.

Have a GREAT week!